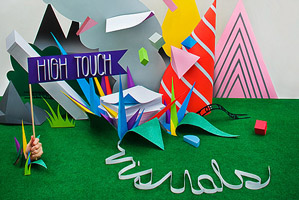 En estos tiempos dominados por las máquinas Julien Vallée nos sorprende con sus cachitos de papel…
Reproducimos una entrevista realizada por http://www.xlr8r.com
A piece of paper is worth a thousand words for this rising Canadian design star.
Move over, origami cranes. Artist Julien Vallée has discovered new and crazy ways to manipulate colored paper to create full-on fantasy worlds.
Aside from having a great eye for color and shape and a mind for novel concepts, Vallée uses his work—which often includes a combination of graphic design, installation, motion graphics, and animation—to make you look at everyday objects in a new light.
At the age of 25, Vallée has already been featured in four design books from Gestalten, including designing the cover art for Tangible: High Tough Visuals. And it doesn't stop there—the New York Times, MTV, and Kanye West have also come calling for his unique design signature. By the time you read this, the boy wonder should be back in his native Quebec after a stint living in Berlin and a recent gallery show in the south of France. We caught the young artist up late at night, and asked him some questions about form 
and function.
Where did you grow up?
I grew up in Outaouais, around 200 km from Montreal, in Quebec. It is not a small town but art is not something which prevails. I was more into the music scene, playing guitar in punk and ska bands. Then I moved to Montreal in 2004 to study graphic design, and decided to establish myself there.
What's your favorite food?
I like almost every kind of food as long as it doesn't have a jelly texture, but I especially love Asian food.
Your first name means "youthful." Do you think this describes you?
If it doesn't describe me entirely, it's a characteristic that I try to keep. I think that some people get bored of a lot of things when they grow older and I don't want to be one of them. Maybe there are some things that you get used to after some time, but I try to look at everything with a young eye.
Why did you move to Berlin?
I moved here mainly because of the city and the art scene. I also wanted to come here to take some time to look back at the work I've done in the last two years, and think about the kind of projects and approach in graphic design I want to develop in the future. For me, traveling is the greatest source of inspiration because you're more attentive to the environment. I pay attention to everything that surrounds me. I don't know if coming here directly changed my work, but it has for sure affected my opinion on things and enlarged my vision.
You recently went on a program helmed by famous graphic designer/typographer Stefan Sagmeister. What was the biggest thing you learned from him?
I think one of Stefan's greatest qualities is that he knows how to speak and to express ideas. I think that this is something that relates to our everyday work in graphic design—to be able to communicate well and precisely. Other than that, he is a really tall man.
What are the particular joys and difficulties of working with paper?
I think the joy is to transform a single flat sheet of paper into an object that can communicate something. I love manual work, and paper is something cheap that you can buy more or less anywhere. When you're finished, you can recycle almost the entire piece. Because paper is already a material itself, with its own properties and particularities, the hardest challenge is to be able to create an image that we can understand first, and see as a paper work second. It's important to not let the paper be the message itself, but only a medium to communicate it.
Do you usually use a particular kind of paper?
I usually use Mayfair paper when I'm in Montreal but I'll use anything I can get that seems to react well to the folding.
What do you find the most fun to draw?
I like to draw abstract shapes. I like to draw simple shapes and to just continue until it creates something complex.
What has been the most gratifying project you've done?
I think I'm still searching for this one. I want to do projects for organizations or groups of people that are working for real causes, like the World Wildlife Fund.
A few times you have created pieces that are a tableau of all your personal items. What do you think someone would know about you from looking at all those things, and what did you learn from the process?
It's true that these were personal items, but if people are looking at these to try to analyze the kind of person I am, they totally missed the point. This exercise was really to put any objects surrounding me into the same composition on the same level. I wanted to take all these things and look at them and think, "Hey, I have these things all around me every day and I am not even thinking about why I have these." We should be sensitive to our surroundings and try to get some inspiration from them. That was what the exercise was about.
Who is one artist, living or dead, with whom you would really like to collaborate?
I am a fan of the work of Saul Bass. The project I would have liked to work on the most is the opening credits of Anatomy of a Murder.
What kind of music do you listen to while you work?
It really depends on the mood, time of the day, status of the project, or last concert I've been to. I like mostly every type of music, from old punk to electronic, anti-folk to hip-hop.
How long does it take you to do one of your stop-motion animations? Do you find the whole process exciting, or are there parts of it you dread?
It always depends on the project, but it's usually a long process because you want to make sure that every frame is perfect. There are always some parts that are more difficult and that you feel like you're wasting a lot of time on. Lighting, for example, is always hard. You need to find the best place to make the animation and make sure that the light is constant to avoid flickering in the image. But I love this technique, and it's something that you can do without a lot of material. For me, one of the best parts is when you start animating and you put it all together in the computer and see if you had it right or not.
Tell me about your favorite pair of shoes.
I prefer to be barefoot!
Many of your projects seem elaborately thought out. Do you spend a lot of time on sketches or in your brain before you start working, or do you just kind of go for it?
There are always some unofficial guidelines that I follow as a process, but it's often different from one project to another, and I think that's the fun of it. I think that changing the way I work for each project helps me try new things, recycle myself, and prevents me from being stuck in a sphere of comfort. If everything is planned from the beginning to the end, there is only the production process left, and I like to leave some place for change and new ideas. But I usually always start with sketches or a list of keywords. In fact, the only thing I know when I start a project is that there must be a result at the end.